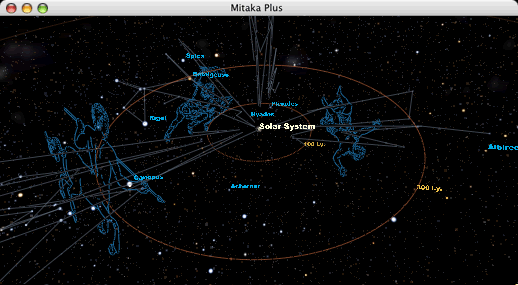 Overview
Mitaka Plus is a real-time 3D engine which visualizes from the Earth to the known edge of our universe.
Mitaka Plus is based on Mitaka by 4-Dimensional Digital Universe Project (4D2U Project) in National Astronomical Observatory of Japan. Mitaka Plus aims to add more features and better usability to the original Mitaka.
Download
You can download the latest Mitaka Plus from the following links. Currently Mitaka Plus is released as updater files of the original Mitaka. So you have to download the latest Mitaka and install it before Mitaka Plus. After installed Mitaka, download the following Mitaka Plus files and overwrite the original ones.
* The latest Mitaka Plus package contains files of old versions. You don't need to install/uninstall to use it.
Latest version
* Mitaka Plus version 1.2.0 beta for Windows Vista / XP / 2000
( ZIP format )
* Mitaka Plus version 1.0.0 for MacOSX 10.3.x / 10.4.x (Universal Binary)
( StuffIt format )
* Mitaka and Mitaka Plus require high spec CPU and graphics environment to run smoothly.
Old versions
* Mitaka Plus version 1.1.0 for Windows Vista / XP / 2000
( ZIP format )
* Mitaka Plus version 1.0.0 for Windows Vista / XP / 2000
( ZIP format )
New Features
New features list of new features in Mitaka Plus.
Tuned performance
Now Mitaka Plus runs much faster!
Scripting support
You can control all the featuews of Mitaka Plus by simple scripts. With this scripting support, you can customize GUIs such as menus and toolbars, shortcuts via keyboard and joysticks, and 3d screen menus. You can store/restore the current state, and customize the initial state of Mitaka Plus. Usable Script Editor is added.
Ported to Macintosh environment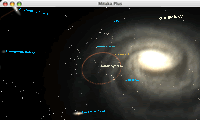 Mitaka is now working in the Macintosh environment (MacOSX 10.3 and later).
* Currently the Screen Menu and some other features are disabled. They will be implemented in the future release.
88 constellation figures added.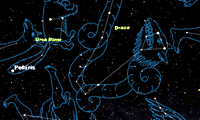 Constellation figures are added. Have fun to fly around the 3-dimensional constellation shapes in the space. Constellation figure data comes from my Solar System Simulator project, designed by Nobuo Furusyo and viva mambo, inc.
Author
Mitaka Plus is developped by Toshiyuki Takahei (former 4D2U Project / Riken).
Supported by: Astronomy|Planetarium (http://www.tenpla.net/ : in Japanese)
Copyright (c) 2007 Toshiyuki Takahei, Tsunehiko Kato and 4D2U Project
Original Mitaka is developped by Tsunehiko Kato (former 4D2U Project / Osaka Univ.).
Mitaka: Copyright (c) 2007 Tsunehiko Kato and 4D2U Project
Known Problems
Development Plan
Since the original Mitaka ver. 1.00 source code was released, I ported it to Macintosh platform to prepare further multi-platform development. Most of disabled features in Macintosh version are came from 3-D font rendering. It will be solved soon by implementing high quality font rendering for both platforms.
In the version 1.1.0, at last Mitaka Plus has scripting support and its powerful customizability.
In the version 1.2.0, rendering performance was extremely tuned. Especially in the on-board GPU environment such as laptop PCs, it works much faster than previous versions. The final version of 1.2.0 will also support viewpoint animation by scripts.
* These plans may be changed, of course.
Navigation
Smooth transition between target objects.
Landing on any target object seamlessly.
Change the target objects quickly by shortcut keys.
Continuous time progress (other than real-time mode).
Trace the Sun for observing eclipse.
SpaceNavigator support.
Select and query object information by click.
Free flight mode.
Additional data
Simple way to add minor planets, comets and so on.
Simple way to add other Milky-way images.
Way to add more astronomical data.
Galaxy images visible in the planetarium mode.
Apparent magnitude of planets in the planetarium mode.
Marks, lines, additional images for presentations.
Trails of diurnal motion.
Panoramic landscape images.
Shooting stars.
Scripting support
Auto program editor.
Flight path recording.
Movie rendering.
Toggling individual objects.
More sophisticated Mitaka.ini setting file.
Rendering quality
Anti-aliasing for text rendering.
Fade-in/out the labels and objects.
Realistic star rendering mode.
GUI
More setting dialogs.
Internationalization (more languages).
Presentation
Handles more media types such as PowerPoint.
Simple way to register images and movies.
Launch external programs.
Special rendering
Stereoscopic rendering on single PC.
Fisheye /Dome-master rendering.
Contact
If you have problems, comments or requests, please contact me by this mail form. Notice: Mitaka Plus is freeware without any support service. Basically I don't answer each comments individually.